Transporting Dangerous Goods and Ammunition By Air and Sea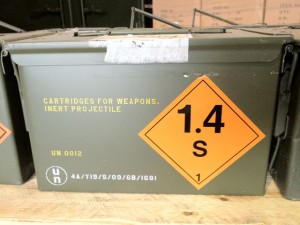 PBS is certified to handle and deal with dangerous goods, our staff have undergone extensive training to enable us to deal with all aspects of dangerous goods by air and sea.
We can assist with dangerous goods certification and provide an IATA packing service utilising approved UN boxes and packaging.
We can offer a re-pack service and identify the specific requirements/restrictions on most dangerous goods classes.
Ammunition can be very difficult to transport to certain destinations due to airline and destination restrictions, we have extensive experience in all the regular destinations that ammunition is required (for Anti Piracy and security purposes) it goes without saying that ammunition shipments have to be prior approved and have appropriate export/import licensing in place prior to export (we can assist with this if required)